State of Maine v Gregory Nisbet
Defense Attorneys:
Matthew B. Nichols & Sarah Churchill
Maximum Sentence:
Each count of manslaughter carries up to 30 years in state prison.
Offense:
6 counts of manslaughter and 5 counts of life safety code violations
Issues:
Concurrent Causation
In State of Maine v Gregory Nisbet, Attorneys Matthew Nichols and Sarah Churchill litigate first ever manslaughter charges brought against landlord for state's deadliest accidental fire in tenant building.
Judge Thomas Warren delivered the verdict in State of Maine v Gregory Nisbet (CR-15-4030) before a packed courtroom in the Cumberland County Superior Court on Friday afternoon, Oct. 21st. Nisbet was acquitted of all manslaughter charges and all but one of 5 misdemeanors. If convicted, Nisbet would have become the first landlord in Maine to be convicted of manslaughter for an accidental fire.
Gregory Nisbet was indicted and charged with 6 counts of manslaughter for deaths occurring at his tenant property in Portland, ME on Nov. 1, 2014 when a fire that started on the building's porch spread quickly through the three-story structure. Each count of manslaughter carries up to 30 years in state prison.
"He was charged with six counts of manslaughter and five counts of life safety code violations," says Matthew Nichols, Nisbet's lead defense lawyer. The life-safety code violations adopted from national standards (NFPA 101) are misdemeanors carrying up to 180 days incarceration in county jail. Judge Warren found Nisbet guilty of one count of a life safety code violation.
The bench trial spanned 7 days trying what many felt was an over-reaching by the state of criminal negligence stemming from an accidental fire. "My take on the case from the very beginning, on the manslaughter charges, was that this is all about causation," says Nichols. As he explains, "in order to prove manslaughter, the state has to prove elements, not just facts. The elements of manslaughter are that Mr. Nisbet caused the deaths of each individual … and that his culpable state-of-mind was either criminal recklessness or criminal negligence."
Nichols describes this very unique case as one of "concurrent causation," entailing complex legal issues and intense litigation. He relied heavily upon his law partner and co-counsel attorney Sarah Churchill in obtaining all acquittals. "This was a total team effort with me and Sarah," says Nichols.
"Sarah Churchill is an exceedingly rare combination of a great trial attorney and a great researcher and writer. Sarah wrote all of our bench memoranda on the legal issues, in particular on the law of causation and on the more complex statutes on concurrent causation, which was essential to the manslaughter acquittals."
"The standard you use in a criminal case is that a gross deviation from what a reasonable person, similarly situated, would do has occurred," said Nichols, who also commented on the "mountain of discovery" in the case.
"When we looked at the element of negligence, we said; that is important in the case. For example, was it a gross deviation that he (Nisbet) hadn't been in the building and was not aware that the tenants had dismantled the smoke detectors?" This was a key element toward countering the gross negligence claims.
But Nichols maintains that even more important to the negligence elements in this case were those of concurrent causation. Did the lack of smoke detectors and in one instance on the third floor, lack of life safety code-compliant windows, result in these deaths?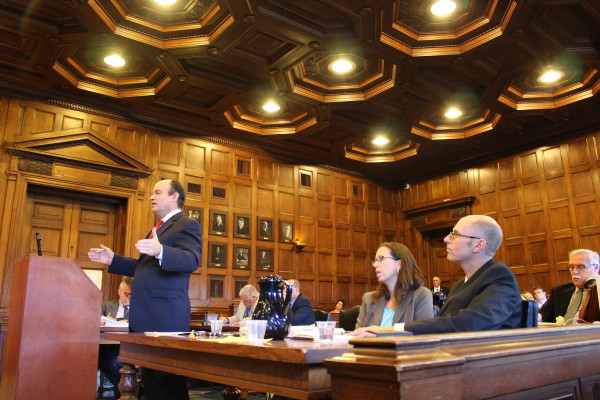 "Our expert on fire investigation, R Craig Williams PE, researched over 500 documented studies in which government agencies reported that in this kind of large, fast-moving fire with intense heat, even the best, brand new smoke detectors would have become inoperable before they would have sounded," explains Nichols.
On cross, Nichols got the state's medical examiner to concede that well before the six residents were clinically dead, they were likely incapacitated and impaired to such degree that they were incapable of saving themselves due to carbon monoxide and hydrogen cyanide poisoning.
Four of the misdemeanor counts regarding code violations related to the use of the building, and whether it was a boarding house or a single family residence. This tied directly to the manslaughter charges and causation. In other words, says Nichols; "But for Nisbet's failure to provide these additional boarding house life safety requirements, the fire victims would have survived."
Nichols describes Atty Churchill's role in researching the use of the building and writing the memoranda as brilliant legal work. On cross-examination of the Deputy Fire Marshall, Churchill essentially turned the Marshall into an expert witness for the defense.
Dr. Richard Sheppard of the ATF, Baltimore, testified for the prosecution. Upon Nichols' cross-examination, it was revealed that in analyzing the fire progression model, the fire at 24 Noyes Street was more likely to have advanced as a 20 megawatt fire, versus the 4 megawatt fire progression Sheppard gave on direct. Thus, the time to escape –with or without smoke detectors, which can take up to 2 minutes to sound –was extremely limited.
"This is a case where there's no celebration. Not on Mr. Nisbet's part or by Sarah or myself. Greg was extremely fond of these six young and by all accounts, wonderful individuals who died in this fire," said Nichols.
Sociopolitical Implications
While this rare and unique case failed to rise to the level of criminality as charged by the state, Portland mayor Ethan Strimling has said that: "This (fire) has been a grave reminder that everyone – landlords, tenants, and the City – has a role to play in ensuring that our neighbors have a safe place to live."
The city of Portland created a new department for inspecting rental properties. Assistant Attorney General Bud Ellis has also reported that since the indictment and trial, the state fire marshal's office and local town offices have had increasingly high volumes of calls from landlords asking 'what do I need to do?' as well as asking for proactive inspections.
The original article posted on PR Web can be found here.