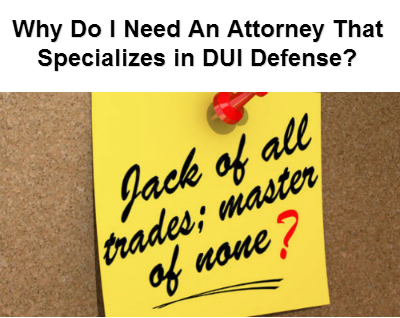 ---
Allow me to answer that question with another question (or two):
What is the difference between a cardiovascular surgeon and a dermatologist?
Would you choose to have a dermatologist perform open heart surgery on you?
Yes, like medical doctors, all lawyers have the same basic post-graduate education. After completing medical school, in which the student is exposed to a variety, if not all, areas of medicine, the aspiring physician elects an area of specialty. That person must then complete a residency program and become "board certified" in that particularized discipline. Hence, some doctors become cardiovascular surgeons and some become dermatologists. You, the consumer, knows to select the former for open heart surgery and the latter should you develop a skin condition.
Lawyers are different.
Subsequent to law school, the aspiring lawyer must pass a generalized state bar examination. He is then free to take on all types of cases ranging from real estate transactions to divorce to murder cases and, yes, DUI cases.
Doctors and lawyers are similar in that you will find that lawyers who have dedicated their careers to practicing in one specific discipline are generally more proficient in their chosen area of practice than those who use their bar admission to take on a variety of legal cases.
If you can handle one more doctor-lawyer analogy, here goes. I love my PCP; I trust her implicitly and explicitly. She is the best when it comes to her chosen discipline: internal medicine. But, when I have a medical issue that is outside of her area of specialization, she refers me to the best of the best doctors who do specialize in the area of treatment that my condition requires to give me best chance to recover and get well. You may have a family or business lawyer whom you trust as I do my PCP. But, if you or a loved one has been charged with OUI or any other criminal charge, do not assume that that attorney represents your best chance to recover and get well just because we all went to law school and passed a generalized bar exam.
I receive many referrals from attorneys asking me to represent their business, divorce, real estate clients, etc. in criminal/OUI cases. But, I also get call backs from folks saying that they are going to stick with their family attorney who knows nothing about criminal defense.That is okay. I wish them luck, but I know that they have short changed themselves by not giving themselves the best "opportunity" to recover and get well.
Ultimately, it is your choice when it comes to hiring an attorney to represent you in a given case or controversy just as it is your prerogative to hire the doctor of your choice (well, it used to be) to treat your ailment.
Do not hire a dermatologist to perform open heart surgery.
Do not hire a real estate or corporate attorney to defend your criminal/OUI case.
Note: Do not hire me to handle your real estate or corporate issues. But, I can and will refer you to the best of the best attorneys to handle those cases!
For a free consultation with the best of the best in handling your criminal/OUI case, call me at 207-879-4000 or check out this website for more information. We have relocated our Portland office to 1250 Forest Avenue, Portland, ME 04103.